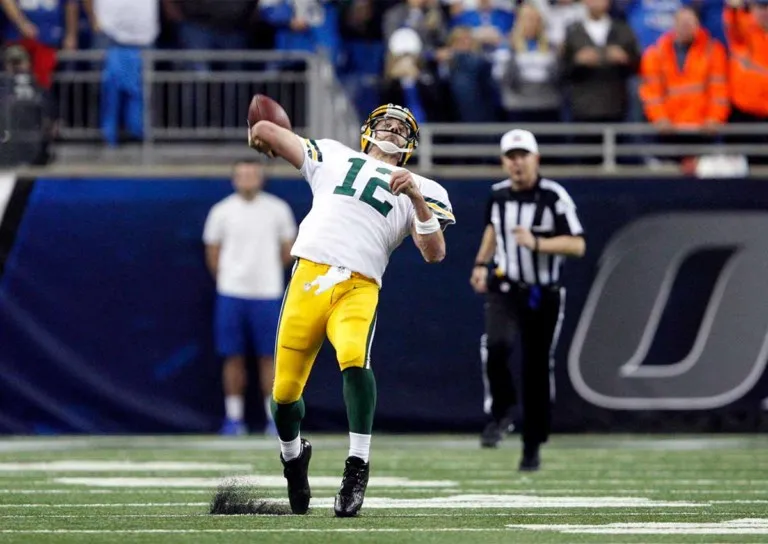 Does Rodgers keep the surging Burrow at bay?
Division leader meets division leader on Sunday night in the NFL. Few would have guessed that one of the two teams would be the Bengals, though. But that's the NFL in 2021 – one surprise follows the next.
Although the Packers are still considered the favourites in this duel, the lead, which in previous years would probably have been in double figures, has now shrunk to less than five points and not only because of Cincinnati's home advantage.

Nevertheless, we expect another show of force from Green Bay, who have steadily improved since their disastrous start and gave the Pittsburgh Steelers no chance at the weekend.
So for Bengals vs. Packers our prediction is an away win for Aaron Rodgers and his colleagues, who are still a number ahead of the Bengals, especially offensively. Even though Joe Burrow has staked his claim to replace the Packers QB as MVP at some point.
Kickoff of Sunday's game is at 7pm in Cincinnati. It can be watched live on ran.de or on DAZN.
United States Cincinnati Bengals – Statistics & current form
The Bengals have started the season 3-1 and are leading the AFC. That's surprising considering the competition in this division, but it also shows that Cincinnati was right on the money with the No. 1 draft pick of 2020.
Because Joe Burrow delivers. With a current average passer rating of 113.8 points, he is not only ahead of the likes of Tom Brady and Josh Allen, he even outscores the reigning MVP Rodgers by a whopping 13 points. If that's not an announcement.
How good are the Bengals really?
However, we have to leave the church in the village a little bit, because the Bengals haven't had to play against really strong opponents yet The Steelers have not been as good as their reputation for a long time and they even lost against the Bears, who are also not as strong as they used to be.
With the Packers, the first top team now comes to Cincinnati, which is why we also do not believe in a success. Although the Packers had to play against much stronger teams and only scored three points on the first day of the game, they already have more offensive points than Cincinnati.
Cincinnati with few ball wins so far
The Bengals need to improve their turnover ratio. With -1 they are rather in the back of the league and also three points here the Packers. They only managed one forced fumble and only three interceptions.
Since they are unlikely to succeed in this respect against the very ball-secure Rodgers, they are also the clear underdogs in this game. We still see the three handicap points as too few, which is why a bet on Green Bay-4 is also a promising option for Bengals vs. Packers.
Key Players:
QB: Joe Burrow
– RB: Joe Mixon
– WR: Ja'Marr Chase
– TE: Jonah Williams
– K: Evan McPherson
United States Green Bay Packers – Statistics & Current form
Aaron Rodgers needs to be irritated for him to be at his best. After his miserable performance in Week 1 against the Saints, many pundits were already talking about the star going down and that he was no longer up for it at all.
No one is saying that now after four days of play. In the meantime, the Packers are back in first place in the NFC North and, if everything goes according to plan, they will not relinquish this position until the end of the season. Who is going to stop them? The Bears? Never.
Green Bay one of the hottest teams
There's a lot to be said for Green Bay right now. Aaron Rodgers is in top form and offensively they are one of the strongest teams right now. Over their last three games, they've put up an average of 30.7 points, exactly nine more than the Bengals over that span
That already speaks for a much more explosive offense around running back Aaron Jones and top receiver Davante Adams. Randall Cobb has established himself as Rodgers' No. 1 kickoff man in recent weeks. Against the Steelers on Sunday, he scored 69 yards and two touchdowns.
Defensively both about equal
So offensively we see the Packers ahead, but what about defensively? That's where the stats are a little deceiving. Cincinnati allows 6.2 points less per game, but Green Bay is better in terms of yards conceded per game.
In addition, they had that one disaster game right at the beginning of the season. Therefore, we would call a draw for the defenses, which ultimately speaks in favour of the Packers again. They should also be able to outscore the Bengals.
For Cincinnati vs. Bengals, the odds on the Packers are also still very good. We would consider a handicap of up to a touchdown lead as absolutely acceptable. From one of -4 the value is already in the very good range.

Key Players:
QB: Aaron Rodgers
– RB: Aaron Jones
– WR: Davante Adams
– TE: Robert Tonyan
– K: Mason Crosby
Cincinnati Bengals – Green Bay Packers Head-to-head comparison / H2H record
In this millennium, the Packers have only managed to win once against the Bengals. However, that sounds worse than it actually is. The other way around, we could also say that they are undefeated against Cincinnati for eight years.
The reason for this is that both teams only play each other every four years, which also makes a direct comparison less meaningful. We have to rely more on the current form, which is going in the right direction for both.
For the Packers, however, it is even more upward and they have won against the stronger opponents. So with Bengals vs Packers, any bet on Green Bay is to be favoured, possibly also in combination with over-points.
United States Cincinnati Bengals – Green Bay Packers United States Pick
No. 1 Pick Burrow plays against No. 24 Pick Rodgers. However, that's also the only spot where we see Burrow with an advantage. Otherwise, Rodgers should make it clear on the field Sunday who still wears the trousers in the NFL.

So for Bengals vs Packers, a Green Bay -4 prediction is our preferred betting option, closely followed by a Green Bay + Over points combo bet. However, the first option seems a little safer as the Packers defence has also been on fire lately
When we look around for betting alternatives, one player who has been hot right now stands out, Randall Cobb. Betting on a Cobb touchdown in the Bengals vs Packers game not only offers attractive odds, but is also recommended given his current form