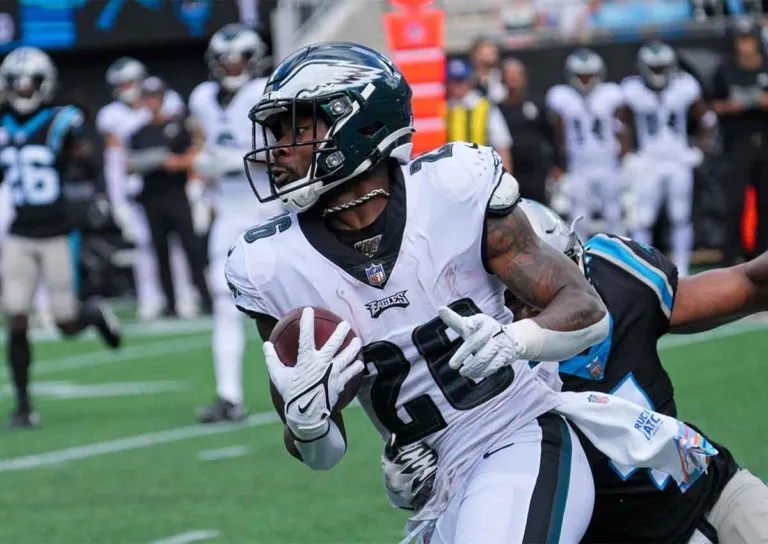 Do the Eagles trip up the champions?
Two winners from the last day of play will contest the good old Thursday Night Game in the NFL on Thursday. While the Bucs' win over the Dolphins was expected, the Eagles' comeback win over Carolina came as something of a surprise.
But only at second glance, since Philly has one of the league's top defenses this year. Although the two hefty losses to Dallas and Kansas City have somewhat spoiled their average, they are otherwise really good and, for example, allow 23.4 yards less per game than the Bucs.

Now that certainly doesn't mean they'll be favourites against the reigning champions, but at home in Philadelphia they can certainly upset Tom Brady and Co. – especially with Brady limited by his hand injury.
For Philly vs. Tampa Bay, our prediction is thus also a close game, as is very common this season. Never before in a season have more games been decided in the last minutes or seconds. That could happen again on Thursday.
Kickoff of the Thursday Night Game of NFL Week 6 is on Friday night at 02:20 and it will be broadcast live by DAZN – with German commentary.
United States Philadelphia Eagles – Statistics & current form
The Eagles are one of only six teams to hold their opponents to under 20 points on three occasions in the first five days of play. The fact that they are not mentioned first when it comes to good defenses is due to their two harsh defeats against the Cowboys and the Chiefs.
Nevertheless, we have them at the top of the list as a defence team when it comes to spitting in the soup of the opposing offence. Only on Sunday against the strong Panthers they caught three interceptions again and also had three sacks on the credit side at the end.
Eagles-Defense better than their stats
While you might think that the Bucs are the kind of high-scoring offense they've had trouble with so far this season, Tom Brady isn't fully fit.
He will be able to play, but this is where the Eagles will see their chance. If Brady is even 5% handicapped and throws more inaccurately, they will be there. Whether it's enough to win in the end is questionable, but at least they'll be able to give the Bucs a thriller.
Because with only 336.8 yards allowed per game, they field a top 10 defense Against the pass (clearly the Bucs' strength), they're even listed in the top 3 with 194.8 yards allowed. So this matchup suits Philly.
Hurts needs to win games with his arm too
Then it's up to Jalen Hurts whether win number three actually comes out in the end. So far he has a decent QB rating (93.3), but his big strength has been his rushing game (already three rushing touchdowns of his own).
If he can attack the vulnerable Bucs defence with his passing game, the Eagles have a chance to surprise. For Eagles vs. Bucs, a bet on Philadelphia +7 is therefore a great way to be on the safe side even with a narrow Eagles defeat.
Key Players:
QB: Jalen Hurts
– RB: Miles Sanders
– WR: DeVonta Smith
– TE: Dallas Goedert
– K: Jake Elliott
United States Tampa Bay Buccaneers – Statistics & recent form
For the third time this season, the Buccaneers are away from home on Thursday and so far they haven't looked scary on foreign soil 24-34 in LA and a week later with a lot of luck 19-17 against the Pats.
An away power certainly looks different, even if they destroyed the Dolphins at home last time. Accordingly, we're also surprised by the -7 points in handicap that bettors are giving them against the Egales.
Buccaneers slightly overrated away from home
Both in the Los Angeles game and in Boston against the Pats, there was little going on offensively on the part of the champions. It looked like a completely different team on the field compared to their home games, where they put up an average of 41.3 points.
But away, that number is just 21.5, which is why we see them only slightly ahead against Philly. In what is expected to be a mid-to-low scoring outcome game, a high win for the Buccaneers is more unlikely.
How banged up is Brady really?
Even against the Dolphins, quarterback Tom Brady was rested at the end, which was due to a thumb injury, as it turned out later. However, since the thumb is essential for throwing, we don't see the GOAT at 100% – also a plus for Philly.
Thus, for us, this is also the game most likely to see an upset on NFL Game Day 6. For Philadelphia vs. Tampa, the odds on the Eagles are therefore a very value-bearing affair, as we can easily give them a 5-7 point handicap.
Key Players:
QB: Tom Brady
– RB: Ronald Jones
– WR: Mike Evans
– WR: Antonio Brown
– K: Ryan Succop
Philadelphia Eagles – Tampa Bay Buccaneers Head-to-head comparison / H2H record
The record in the last ten duels between these two teams is 5-5, with Brady or Hurts not being on the field in any of the duels. Thus, this statistic has little meaning either. Again, we're more likely to go with recent form here.
Both teams come into this clash with wins, with the Bucs looking a little more impressive in their 45-17 win over Miami. However, since they have disappointed away from home so far, we see them ahead by only a slight margin.
So while we would definitely give them 3-5 points as favourites, we see the projected 7 as too much. Therefore, we do not recommend betting on Tampa for Eagles vs Buccaneers. Rather, handicap bets on Philly are worthwhile – at what amount is left up to the risk appetite of bettors.
United States Philadelphia Eagles – Tampa Bay Buccaneers United States Tip
A banged-up Tom Brady comes to Philadelphia, where he will also face an Eagles team that handed him arguably the most painful loss of his career (Super Bowl LII, 2018).
With that, he'll be motivated, but we expect his thumb injury to be bothering him a lot already. Therefore, we don't see a blowout win coming. So for Philly vs. Tampa, the forecast on the Eagles +7 at fair betting odds is our clear recommendation
As an alternative bet, a tip on subpar points offers itself A Brady handicap against a strong Eagles defence. We would be surprised if the 52.5 points set could be surpassed.