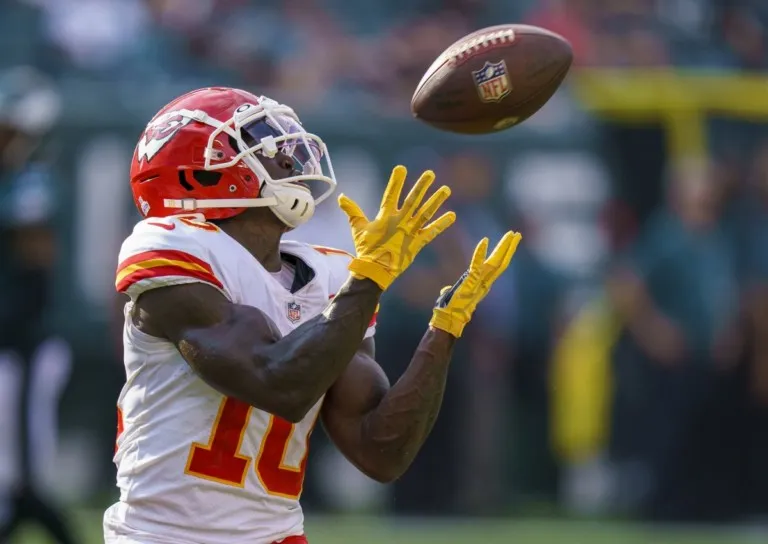 Who will win the top game in the AFC?
Chiefs vs. Bills – there was something! Only at the end of January these two teams met in the Conference Championship Game of the AFC and in the end the Chiefs had the upper hand with 38:24.
Buffalo didn't have a complete lack of chances then either, as they still led 9-0 after the first quarter and only let the Chiefs back into the game through a few unnecessary mistakes. Moreover, their second quarter was just awful.
The Bills, however, seem to be a bit more mature this year, the Chiefs at least a bit unsettled defensively. In that respect, both teams should have come much closer. We don't foresee a winner with a two-touchdown lead on Sunday.

Nevertheless, the Chiefs are still the favourites at home for us Just on Sunday against Philly, Mahomes and Co. showed what they are still capable of offensively. Therefore, for Kansas City vs. Buffalo our prediction is a success for the favoured Chiefs
Kickoff of the thrilling Sunday Night Game is on Monday night at 02:20 and the game can be watched live on DAZN.
United States Kansas City Chiefs – Statistics & current form
The Chiefs are currently riding the razor's edge. Offensively they deliver one spectacle after the other, but to win their games they have to, because their defence is one big chicken pile. That is not yet champion-like.
There is also a lot of pressure on Mahomes, because as soon as he doesn't deliver 100% (like against the Chargers), the Chiefs lose. Even against the Eagles they were only one interception or one fumble away from an embarrassing defeat.
Chiefs the team of two faces
No other team in the NFL has such a great discrepancy between offense and defense as the Chiefs They rank second to last in the league in both yards conceded per game (437.8) and points allowed (31.3).
Offensively, however, they are second in both yards scored (427.5) and points per game (33.5). Offense is good, defence is bad, so to speak. This can't really work against the really big teams, and that's exactly what they're up against with the Bills on Sunday.
Defence will still improve
That doesn't mean we see them as underdogs against Buffalo now, though. Because there's one thing the Chiefs have shown in previous years. When it comes down to it, their defence is always that little bit better.
Let's just remember the preseason, where the Chiefs went down 32-40 to the Raiders on the fifth day of play. One week later, they also played Buffalo and their defence held Allen and his team to just 17 points.
So it's an exciting parallel to this year, which is why we're leaning towards Kansas City again. With Chiefs vs. Bills, a bet on the home team is therefore our clear betting recommendation, even with a few points in handicap on top.
Key Players:
– QB: Patrick Mahomes
– RB: Clyde Edwards-Helaire
– WR: Tyreek Hill
– TE: Travis Kelce
– K: Harrison Butker
United States Buffalo Bills – Statistics & Current form
One show of power just follows another. Since the surprising opening loss to Pittsburgh, the Bills are undoubtedly the hottest team in the league. They have a 118:21 record since then, which is an average margin of victory of over 32 points.
They are also averaging 33.5 points offensively, just like the Chiefs, although it has to be said that their last three opponents have not been the absolute best in the league. Neither the Dolphins, Washington or the Texans should make the playoffs this season.
Quo Vadis Bills?
So that raises the question of the Bills' true performance level. How does their defense perform when they face a potent offense? There are some question marks here, because their performance against Washington revealed some gaps that Kansas City will definitely exploit.
That Edmunds, Matakevich and Co. will again get four interceptions like against the Texans or two like against Washington, we dare to doubt. Also, that they can hold the Chiefs to under 20 points is all but impossible.
High scoring game is expected
So offensively they will have to keep up with the 2020 champions to have a chance to win. Here, Allen has been able to rely heavily on his wide receiver Diggs and tight end Knox of late, who have combined for five touchdowns in the last three games.
Our equation is: If the Bills score over 30 points again, they have a chance to win, if not, it will be difficult. For Chiefs vs. Bills, the odds on Kansas are still more bettable than those on Buffalo. Especially since they're as close as they've ever been in this duel.
Key Players:
QB: Josh Allen
RB: Devin Singletary
– WR: Stefon Diggs
– TE: Dawson Knox
– K: Tyler Bass
Kansas City Chiefs – Buffalo Bills Head-to-head comparison / H2H record
We have already reported on the last duel to date in January, but even before that the Chiefs were not necessarily the Bills' favourite opponent. Five of the last six meetings have gone to Kansas City, four of them by more than a touchdown.
While it could be closer now Sunday night, things will have to go perfectly for the Bills to continue their streak in Kansas City. Mahomes is always especially tough to beat in what is expected to be a high scoring game.
For Chiefs vs. Bills, a tip on Kansas is therefore our recommendation. However, since predicting the margin of victory is difficult, we favour a combined bet with overpoints. The 56.5 seems absolutely feasible to us with these two offenses.
United States Kansas City Chiefs – Buffalo Bills United States Tip
Betting against Pat Mahomes? That's always a big risk, which we'd avoid again on Sunday. Even with the Bills, one of the teams of the hour, coming to Kansas City.
So for Chiefs vs. Bills the odds on the home team + Over 56.5 are a bet we can recommend with a clear conscience and one that also gives us excellent value on top of that.
We also have a clear recommendation for betting on a specific touchdown scorer: Tyreek Hill Not only did he score 186 yards against the Eagles on Sunday, but he also scored three touchdowns. One of them should at least follow that up against the Bills