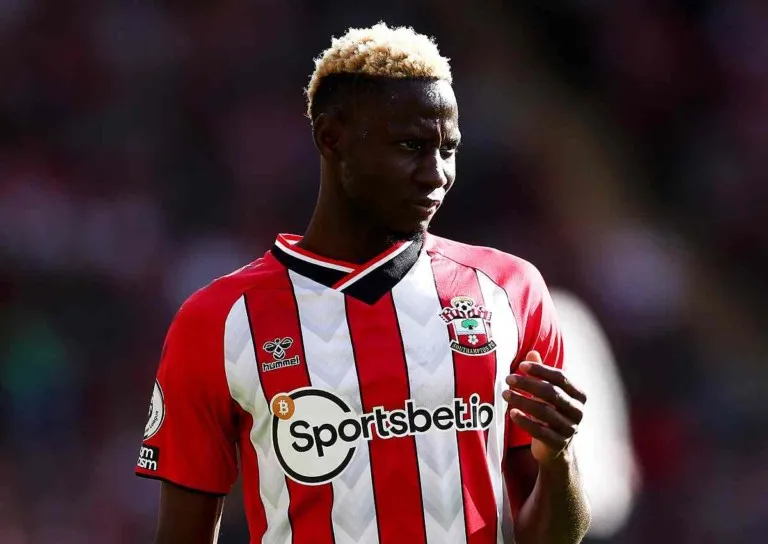 Will Southampton manage to catch up with mid-table?
Even after eight matchdays in the English Premier League, three teams are still waiting for their first win of the season. That wait finally came to an end for Ralph Hasenhüttl and his Saints last weekend, with a 2021/22 premiership win wrapped up. The chances of following up straight away are very good this weekend as Southampton and Burnley face each other at St Mary's Stadium.
The Clarets are the lowest-form English professional side across the season and have now gone eleven games without a full win. No team from the top four English leagues has waited longer for a full success. Saturday afternoon betting odds of 4.00 are on offer for Southampton against Burnley in this scenario, while a home win attracts around double the stake.

Southampton could thus make up ground on the mid-table with a second home win en suite in the space of a few days and put their disastrous start to the season behind them. The match kicks off at 4pm on Saturday afternoon.
Southampton – Statistics & current form
Slowly but surely, things were getting a little uncomfortable once again for Ralph Hasenhüttl as head coach of Southampton Football Club. On matchday eight, the first goal of an Albanian footballer in the English Premier League ensured the first win of the season. Youngster Armando Broja, at 20 years and 36 days, is also the youngest player to score in his first starting eleven appearance for the Saints.
There are few goals at St Mary's
In a 1-0 win over Leeds United, Southampton goalkeeper Alex McCarthy kept his box clean for the second time in the last three home games. In the eleven Premier League home games before that, the Saints did not manage to keep a clean sheet and always conceded at least one goal. In the meantime, however, Hasenhüttl's team seems to have stabilised its defence.
After the departure of Danny Ings to Aston Villa, the forward play is still in need of improvement. The young attacking players are visibly trying hard and have very good approaches, but they are not yet able to deliver this level of consistency. In the last five league home games, Southampton have scored only two meagre goals. A goal spectacle would be a big surprise and the odds for Southampton against Burnley are accordingly low for the under 2.5.
bet.
First half to fall asleep
There are also other statistics that result in a similar prediction. In particular, the first half has not offered much in games involving Southampton. The Saints have only conceded one goal in the first half, only championship favourites Manchester City can beat that mark. However, they themselves have only scored two goals in the first period. With these figures, a goalless first half would not really be a surprise.
In terms of personnel, Ralph Hasenhüttl can count on James Ward-Prowse, who missed a PL game against Leeds for the first time since December 2018. He has served his red suspension and is likely to take Diallo's place on the six.
Predicted Southampton line-up:
McCarthy – Perraud, Salisu, Bednarek, Livramento – Djenepo, Ward-Prowse, Romeu, Elyounoussi – Broja, Redmond
Last matches played by Southampton:
Premier League
10/16 2021 – Southampton 1 – 0 Leeds
10/02 2021 – Chelsea London 3 – 1 Southampton
09/26 2021 – Southampton 0 – 1 Wolverhampton
Carabao Cup
09/21 2021 – Sheffield United (2)2 – 2(4) Southampton
Premier League
09/18 2021 – Manchester City 0 – 0 Southampton
Burnley – Statistics & current form
Next week Sean Dyche celebrated his ninth anniversary as head coach of Burnley. A few days ago, he stood on the sidelines for the 400th time in a competitive match for the Clarets. However, the 50-year-old is currently experiencing the most difficult period of his coaching career at Burnley.
Etliche Punkte verschpielt
Last season Burnley finished in 17th place, but never really had to worry about staying in the league, as their rivals were beaten from the start. However, 39 points meant the worst yield since relegation in 2014/15.
The poor form could not be shaken off during the short summer break and in the meantime the form crisis seems to have left deep marks mentally as well. Five goals in eight league games is not necessarily an outstanding figure, but every Burnley goal so far has meant the lead. Despite this, they have not managed a single win and after eight matchdays the Clarets have already squandered ten points after taking the lead.
League's oldest team
So season-long, the Clarets are without a full win in eleven league games. In none of England's top four leagues has a team waited longer for a win. Burnley have failed to score in seven of those eleven games. In Southampton v Burnley, predicting that neither team will score is a good option.
With every further failure, the mental hurdle for Burnley becomes even greater. One advantage here, after all, is the fact that the Clarets are an extremely experienced team. With an average age of 29, Burnley's 2021/22 starting eleven is the oldest team in the league. In terms of football, Dyche's team is characterised by a lot of fight and commitment, but not much in the way of play anyway.
Predicted Burnley line-up:
Pope – Pieters, Tarkowski, Collins, Lowton – Westwood, Cork – Cornet, Brownhill, McNeil – Wood
Last games played by Burnley:
Premier League
10/16 2021 – Manchester City 2 – 0 Burnley
10/02 2021 – Burnley 0 – 0 Norwich
09/25 2021 – Leicester 2 – 2 Burnley
Carabao Cup
09/21 2021 – Burnley 4 – 1 Rochdale
Premier League
09/18 2021 – Burnley 0 – 1 Arsenal London
Southampton – Burnley Direct comparison / H2H record
In the first ten Premier League games between these two sides, Southampton have managed just two meagre victories. That number was doubled last season, as Hasenhüttl's eleven prevailed both home and away against the Clarets.
Despite the previously manageable record, the Clarets are a welcome guest at St Mary's Stadium. After all, Burnley have won just four of their last 29 visiting appearances at Southampton (14 defeats).
Southampton – Burnley Tip
What a fast-moving sport football is, Southampton could prove once again this weekend. After seven games without a win, the mood slowly began to tip despite passable performances (draw against Manchester City), all the more important was the premiere win against Leeds last weekend. Now, Hasenhüttl's team could double their tally and move back towards mid-table. Odds around 2.00 are offered for Southampton's home win against Burnley.
There are some arguments for this bet after all, as Burnley are the most in-form team in English professional football, losing both games against the Saints last year and winning just four of their last 29 guest appearances at St Mary's Stadium overall. In addition, the negative run is also making itself felt in the minds of the Clarets, as not even a lead is enough to keep them calm, and ten points have already been squandered after a lead. Southampton's prediction for a home win against Burnley is therefore recommended with six units