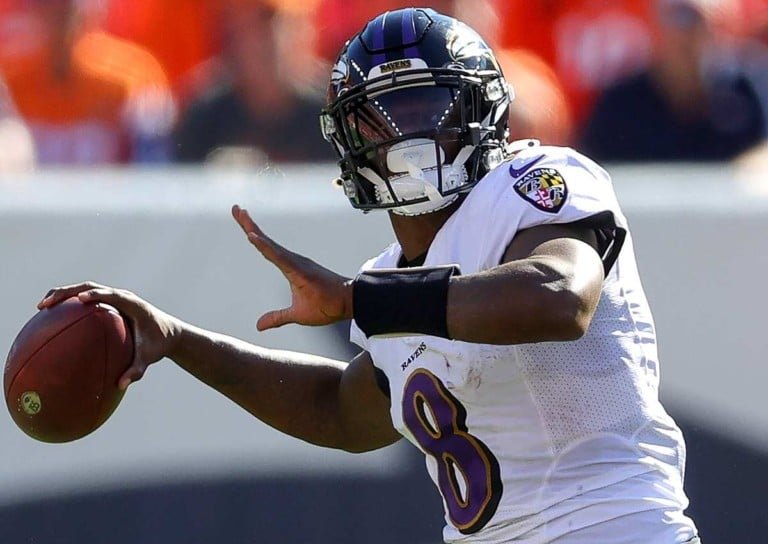 Will the Ravens' streak continue?
Monday Night is now increasingly known as Football Night in German-speaking countries. Numerous fans stay up to watch the Monday Night Game on DAZN, which this week is Ravens vs. Colts.
It's a duel that has it all, as both teams made the playoffs last year and started the current season with that goal in mind. While the Raven are on course for a 3-1 win, the same cannot necessarily be said for the Colts
Despite the trade for quarterback Carson Wentz in the summer, they have yet to really get going and with a 1-3 record, must be careful not to miss out on the top spots in the division. Luckily for them, the AFC South can be considered one of the weakest this year.
Still, we see them as stronger than their past performances indicate. Thus, for Ravens vs Colts, our prediction is also a closer game than the +7 handicap points the oddsmakers are predicting here.
Kickoff of the Monday Night Game of NFL Week 5 is on Tuesday night at 02:15 and the game will be broadcast live on DAZN with German commentary.
United States Baltimore Ravens – Statistics & current form
The Ravens started the season slowly, but the surprising win against the Chiefs seems to have given them upper water, as they haven't lost a game since. Still, they always walk a bit of a razor's edge.
Against the Lions, kicker Justin Tucker had to convert a record 66-yard field goal to win the game, and their success against the Broncos was not as commanding as the final score would suggest. After all, they benefited mostly from Teddy Bridgewater's injury.
Duell against Indianapolis as a yardstick
Accordingly, the Ravens are currently very difficult to assess. In the passer rating of the quarterbacks, for example, Lamar Jackson is even 2.8 points behind his upcoming opponent Carson Wentz.
But since the Ravens have a top 3 rushing game again this year (164.5 yards per game), they still have a very potent offense that puts up an average of 26.3 points. That's 5.5 more points than the Colts score per game.
Defense performance will decide the game
For Monday now, however, we see another point as crucial to success: defensive performance. Since there are never many total points scored in this matchup in recent years, we don't expect it to happen in 2021 either.
Defensively, however, the Ravens allow an average of 28.0 yards per game more than Indianapolis, which at least leads us to conclude that they are not the big favourites the bookmakers declare them to be.
For Ravens vs. Colts, a bet on Indy +7 is therefore the more promising betting option for us. However, bets on sub-points (Under 46.5) are also worth considering given the numbers from past duels.
Key Players:
– QB: Lamar Jackson
– RB: Latavius Murray
– WR: Marquise Brown
– WR: Mark Andrews
– K: Justin Tucker
United States Indianapolis Colts – Statistics & Current form
The Colts finally won their first game and beat the Miami Dolphins 27:17, leaving nothing to be desired from the second period on, especially defensively.
Nevertheless, not all that glitters was gold on Sunday. Two sacks allowed, eight penalties conceded and a lost fumble almost made the game tense again at the end, but in the end the positive statistics outweighed the negative.
Running game and run defence strong
The running game was the main one to mention. With 139 rushing yards, they again clearly surpassed their average rushing yards number. Even stronger on this day, however, was their defence against the run, which allowed just 35 rushing yards from the Dolphins.
Considering that this running game is the big strength of their upcoming opponent from Baltimore, this matchup should suit the Colts very well Should they manage to hold them to under 100 yards as well, then their chances of winning increase exponentially
Low scoring game expected
In an expected low scoring game, individual mistakes will probably decide victory and defeat. Which team will manage to go without a fumble or interception? Here we actually trust Carson Wentz to have greater ball control than Lamar Jackson.
Therefore, the odds on the Colts are our secret tip for Baltimore vs. Indianapolis, but at least with a handicap of +7. Because it is not to be assumed that they will go down completely here against inconsistent Ravens.
Key Players:
QB: Carson Wentz
– RB: Jonathan Taylor
– WR: Michael Pittman Jr.
– TE: Jack Doyle
– K: Rodrigo Blankenship
Baltimore Ravens – Indianapolis Colts Head-to-head comparison / H2H record
The head-to-head record of these two teams sees the Ravens ahead in four of the last five duels. Even more exciting, however, is the statistic on total points. In the last eight duels, an average of only 32.75 points has been scored.
So this matchup ranks as one of the lowest-scoring in the entire NFL as far as the last decade is concerned. So with Ravens vs Colts, a bet on Under 46.5 points is just as bettable as one on the Colts +7. If we combine these two bets, the value even skyrockets extremely.
United States Baltimore Ravens – Indianapolis Colts United States Tip
In terms of stats, the Ravens still have the edge, however, we foresee a much closer game here than the oddsmakers. That makes for several interesting bets at once.
For one, a bet on Indianapolis +7 is recommended for Ravens vs. Colts, as the Ravens themselves rarely score at astronomical levels (with the exception of the Chiefs game, which, however, turned into a shootout with no defenses).
On the other hand, as already indicated, subpar point bets are a nice alternative The set 46.5 total points were last reached in this matchup in 2007. Since then, however, this duel has been stingy with points